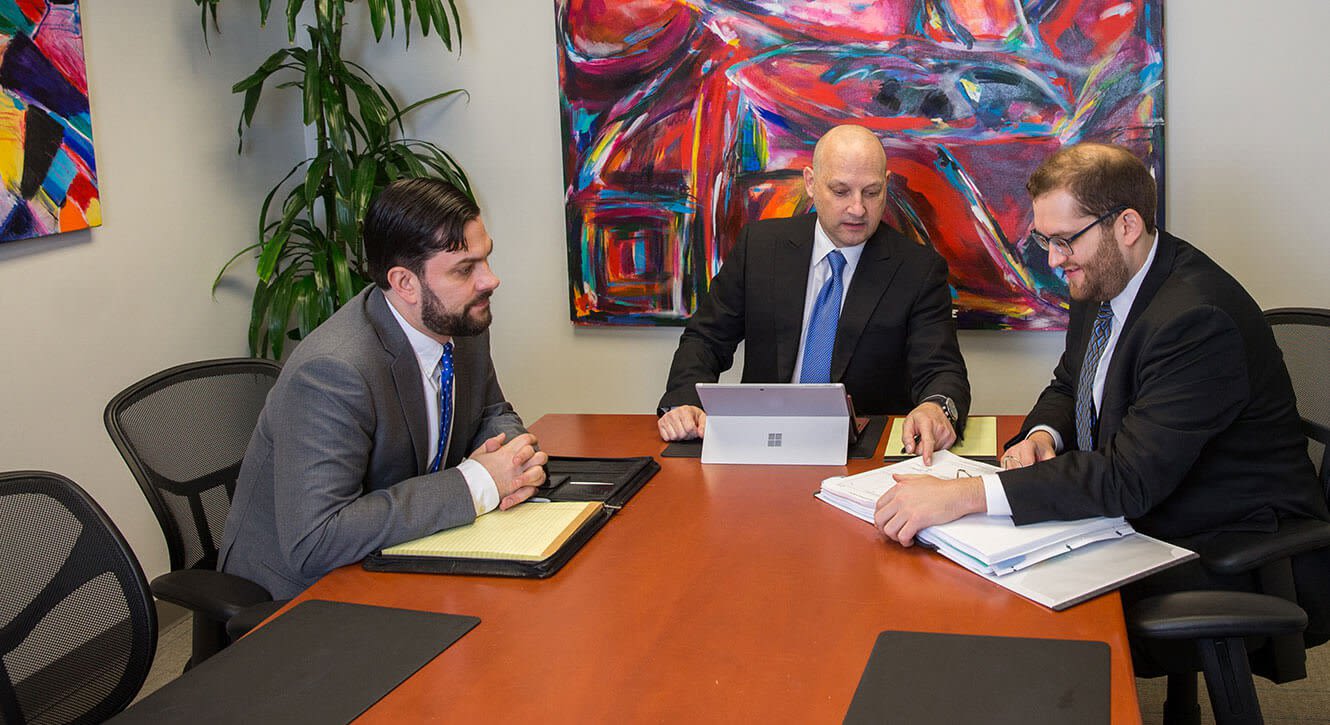 Good People, Great Lawyers
Here at Alberts Curran & Eiler P.C., we like to call ourselves "the human lawyers" because, despite some unflattering stereotypes about legal professionals, we are friendly, understanding, and easy-going people who enjoy getting to know our clients.
That being said, it's a different story when we walk into a courtroom. There, we enter with our game faces on and do whatever it takes to fight for our clients' best interests. Want proof? Just take a moment to look through our case results. They are a true testament to the commitment and tenacity we give to each and every one of our clients.
So where did it all begin? With our founding attorney, Marc Alberts. After law school, he started working at one of Chicago's largest insurance defense law firms until, just a couple years later, he decided to switch sides and fight for the "little guy" — the victims of injury. In 1995, he struck out on his own and founded The Law Office of Marc D. Alberts, P.C., a firm dedicated to protecting the injured from unfair outcomes.
After two more decades of successful practice, Marc joined forces with attorneys Glenn Curran and Todd Eiler, and together, they established Alberts Curran & Eiler P.C.
Since our firm's inception, we as a team have obtained millions upon millions of dollars for victims of injury and their families through diligent and effective advocacy. To us, this mission goes a lot deeper than simply doing our jobs. Rather, it is rooted in an innate need to put our knowledge and skills to good use — to make life a little easier for those who are focused on legal headaches when they should be focused on healing and moving forward with their lives. We fight so that they don't have to waste their energy on anything other than that.
Between Marc's experience, Glenn's brilliant strategizing, and Todd's meticulous approach, we've got your case covered.
DECADES OF EXPERIENCE
The outcome of a personal injury case can impact your ability to cover bills, pay for the treatment you need, and take care of your family. Don't take any risks. Put experience on your side.
SMART STRATEGIES
When you hire one of us, you essentially get three lawyers for the price of one because we are constantly brainstorming our cases together to ensure nothing is overlooked.
A METICULOUS APPROACH
When we strategize your case, we weigh each of your options extremely carefully so that we know we are giving you your best possible chance at getting paid what you deserve.
We want to make this difficult time easier for you and your loved ones, and we're sure you feel the same way. Contact us for a free consultation to learn about your rights and options, and we will do everything in our power to help you recover the financial award you need. And hey — you just might find that these "human lawyers" have the right attitude to keep you smiling along the way.

Your Personal Injury Legal Team
Between our attorneys, we have more than 35 years of combined experience in litigation, and a thorough, firsthand understanding of the insurance company's politics and trade practices. In addition, we understand the reality of dealing with an injury and the impact it can have on your personal and professional life. Whether you live in Chicago, Cicero, Lake County, Will County, or somewhere in between, we are here to be your advocate. Call today to set up a free case evaluation. We'll come to you if you can't come to us.